Nikola, the US electric truck start-up, has unveiled the Tre, an artic designed specifically for the European market, at an event in Phoenix, Arizona.
President Mark Russell said: "With a range between 500 and 750 miles depending upon load, this gorgeous vehicle will have fast hydrogen fuelling in under 15 minutes, even in Europe."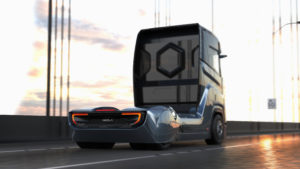 And chief executive Trevor Milton said: "Think about Europe with no more diesel trucks," said Milton. "The roads will be clean, quiet and beautiful."
The company set out plans for the Tre in November last year. Milton said at the time: "It will be the first European zero-emission commercial truck to be delivered with redundant braking, redundant steering, redundant 800Vdc batteries and a redundant 120 kW hydrogen fuel cell, all necessary for true level 5 autonomy. Expect our production to begin around the same time as our USA version in 2022-2023."
The Nikola Tre has 500 to 1,000 HP, 6×4 or 6×2 configurations and a range of 500 to 1,200 kilometres depending on options. The Tre will fit within the current size and length restrictions for Europe.
European testing is projected to begin in Norway around 2020. Nikola is also in the preliminary planning stages to identify the proper location for its European manufacturing facility.
Nikola says it currently has orders for more than 13,000 trucks. It recently announced a battery-electric vehicle option for the urban, short haul trucking market.