Nisa's board is recommending that its 1,190 members accept a £137.5 million takeover offer from the Co-op Group.
The Co-op plans to retain Nisa as a standalone business and brand, which has around 3,200 stores. The ambition is to attract new members to the combined business. Nisa members would also be able to apply to become Co-op franchisees.
Nisa's members are expected to vote on the deal in November. The agreement follows Tesco's £3.7 billion bid for wholesaler Booker, which has shaken up the wholesale market.
For the Co-op the deal will enable it to strengthen its presence in the wholesale convenience sector, in turn enhancing its scale and buying power.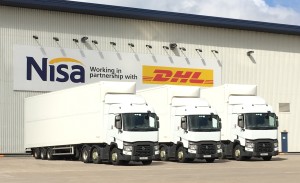 "Over the past three years, Co-op Food has been completely transformed through a convenience-led focus on delivering great value products for our members and creating real value for them and their communities," said Jo Whitfield, The Co-op's Food chief executive. "This acquisition provides the opportunity to create an even greater and more compelling member-led presence within the UK convenience sector."
And Peter Hartley, chairman of Nisa, said: "The Board was unanimous in its decision to recommend the Co-op offer. While the business has made significant strides in recent years, we firmly believe that the combination with the Co-op is in the best interests of our members. The Co-op offers the right blend of buying capability, convenience expertise, and respect for the heritage of our business, to enable our members to fully thrive in this new partnership."
Earlier this year the Co-op sold 298 of its smallest stores to McColl's, the newsagent group that has been developing its presence in the convenience grocery market. To supply these stores, McColl's agreed a deal with Nisa which has been supply McColl's larger stores since 2013.
In July 2017, Nisa renewed its contract with DHL Supply Chain for three years. DHL is responsible for the management of the retailer's logistics operations across the whole of the UK and Ireland handling deliveries of chilled, frozen and ambient products to some 3,500 delivery points.
The Co-op's offer to buy 100 per cent of the shares in Nisa for up to £137.5m, plus the payment of associated deal costs of up to £5.5m, results in a total payment by the Co-op Group of up to £143m. The Co-op would also take on the existing Nisa debt of £105m as well as providing additional benefits including the opportunity to source products from the Co-op.
Earlier this month, Nisa Retail appointed Arnu Misra interim chief executive to take over from Nick Read, who joined in December 2014 with a remit to stabilise and set out a future strategic direction for the company and its members.   Misra has been an independent non-executive director at Nisa since November 2016.