Pipe producer Radius Systems has contracted Norbert Dentressangle to manage UK distribution of its specialist polyethylene piping in a five-year multi-million pound agreement.
Norbert Dentressangle has been appointed to manage deliveries from the company's production facility at South Normanton in Derbyshire. The Red Inside dedicated service will involve distribution across 30 routes on a daily basis using a fleet of 20 vehicles with lorry-mounted cranes. Orders are mainly despatched to regional distribution centres for gas and water utility companies, and supported by specific site deliveries for roadside works and infrastructure projects where extensive pipework is required.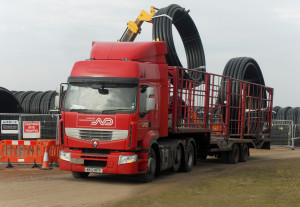 Graham Thurlow, chief operating officer at Radius Systems, said: "We realise that the nature of our product offering and the complexity of our network makes our distribution operation a significant challenge for any third party provider, and to Norbert Dentressangle's merit, they are meeting this challenge, which is testimony to the good working relationships that have been established between the teams."
Norbert Dentressangle has already made changes to the delivery schedule to allow more efficient load consolidation and will be seeking opportunities to improve fleet utilisation via backhauling. Using track and trace technology, Radius Systems has real-time visibility and status reporting of all order collections and deliveries via a mobile smartphone application. The automated supply chain execution solution integrates with Norbert Dentressangle's transport management system.