Air cargo faces a capacity crunch that could be exacerbated by a global recession, according to industry trade body the IATA.
Global demand, measured in cargo tonne kms fell 15.8% in March compared to the previous year , while available cargo tonne kms  shrank by 24.6% in March.
"At present, we don't have enough capacity to meet the remaining demand for air cargo. Volumes fell by over 15% in March compared to the previous year. But capacity plummeted by almost 23%.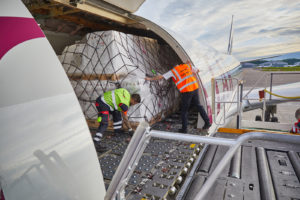 "The gap must be addressed quickly because vital supplies must get to where they are needed most."
Learn more on Logistics Manager
Kuehne + Nagel warns of major challenges ahead
Air cargo services 'perilously close to collapse'
The IATA said that pharmaceutical shipments are currently tracking at double previous-year volumes, excluding shipments of medical equipment.
"The capacity crunch will, unfortunately, be a temporary problem. The recession will likely hit air cargo at least as severely as it does the rest of the economy," said de Junicac.
"To keep the supply chain moving to meet what demand might exist, airlines must be financially viable. The need for financial relief for airlines by whatever means possible remains urgent."