The November 2016 edition of Logistics Manager is now out in print and online. It is also available on iPad and Android.
Reforming the return
Logistics has unbolted the door to super-speedy delivery; but what about the looming backlog of rejected goods? We explore the role of automation in returns management.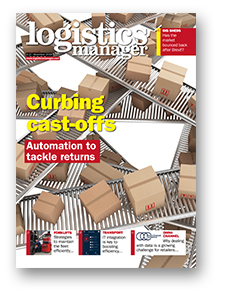 Strategy in the spotlight
Storage is a vital cog in the wheel of retail logistics, and getting it wrong can lead to disaster. We look at its role in multi-channel operations, as well as its relationship with automation.
No time to scrimp
The efficiency and safety of the forklift truck fleet is dependent on a good service and maintenance regime. But a range of options is available and picking the right one is critical.
Get more out of IT systems
There are lots of IT systems available but are operators making the best use of the technologies available – and where are the big opportunities?
Data is critical for omni-channel success
Data is changing quite dramatically, Andrew Mann, vice president of insight and CRM at Asda Walmart told delegates at the Omni-Channel Conference in London. "Data and how it flows around organisations and becoming more open is going to be a challenge we are all going to have to think about."
Business as usual?
It was as though the market was holding its breath prior to 23rd June and across the board property pundits were reporting a definite slowdown. But what is the reality now?
---
Click here to subscribe to the print edition of Logistics Manager