Ocado has invested £3 million in an onsite natural gas refuelling station at its Hatfield Customer Fulfilment Centre which will reduce its HGV fleet CO2 emissions by 29 per cent annually.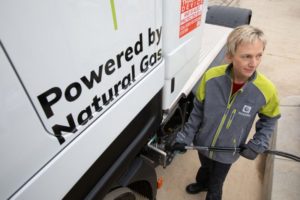 The site launched with 29 heavy goods vehicles powered by compressed natural gas, blended biomethane replacing existing diesel vehicles. 20 per cent of Ocado's HGV fleet is now powered by alternative fuel.
The refuelling station was designed by Gasrec. The businesses have agreed a 10-year support and maintenance contract and Ocado plans to invest in natural gas technology at future sites.
"By investing in gas-powered vehicles, and in our first onsite refuelling station, we're future-proofing our fleet and our business," said Ocado fleet services manager, Graham Thomas. "Emissions from CNG are cleaner than Euro VI standards which start to take effect with the London Low Emissions Zone from April, and will soon be followed by a further 32 Clean Air Zones."
Switching to alternative is part of Ocado's plan to become more carbon efficient and being UK's most environmentally-responsible supermarket added Ocado head of corporate responsibility said Suzanne Westlake.