Ocado saw 16 per cent growth in its solutions business to £116 million last year, the company said in its results for the 52 weeks to 3rd December.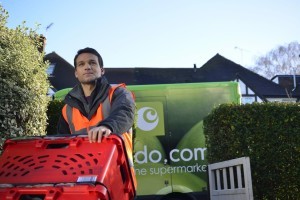 Chief executive Tim Steiner said: "The last twelve months have been transformational for Ocado. We have primed our Ocado Solutions business for growth and received an important validation of the business model through our latest partnerships with Groupe Casino and Sobeys. Looking ahead, we are confident that we will be able to do further deals with the momentum of new signings building over time."
However, the solutions business is still dwarfed by the retail operation, which grew by 12.4 per cent to £1.3 billion. Retail EBITDA was up 4.5 per cent at £79m.
In total, revenue was up 12.7 per cent, but group EBITDA was flat at £84.3m.
The company has been developing two new fulfilment centres. Steiner said: "We have ramped up capacity in our revolutionary CFC at Andover, which opened at the end of 2016, and prepared the way for the opening of our fourth CFC, in Erith, this year.
"Now is the time to take advantage of our growth opportunities. We will invest to ramp up our new solution in both Erith and Andover and to have the right resources in place to meet growing demand for the Ocado Solutions offer. We believe that taking advantage of these international opportunities now will make our virtuous cycle turn faster in the years ahead and we expect that to translate into higher returns on capital. We look forward to our future opportunities and challenges".
Total order volumes grew by 14.3 per cent to an average of 263,000 orders per week but average basket value declined slightly to £107.2, impacted by continued uptake of Ocado Smart Pass and the on-going trend of ordering on mobile phones, resulting in customers ordering slightly smaller baskets more frequently.
Delivery efficiency improved to an average of 182 deliveries per van per week compared to 176 in 2016.
Ocado is targeting retail growth of ten to 15 per cent over the coming year and says it aims to sign further international Solutions' partners.