Ocado has signed a 30 year lease for a fourth customer fulfilment centre – a 600,000 sq ft facility at Erith in South East London.
It has been funded by Tritax Big Box REIT to the tune of £98.8 million and will be developed by Bericote Properties on its Crossdox site.
Ocado said: "Although planning consent is not yet secured, Ocado expects that it will commence the fit out work on CFC4 in 2016 and that it will be operational by 2017."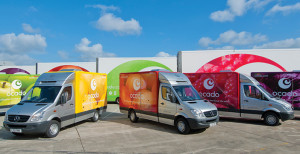 The property will be built on a 35 acre plot reflecting a 45 per cent site cover. Completion of the investment purchase is expected to take place in the spring of 2015 when construction of the main works will commence, with practical completion of the developer's base build targeted for the summer of 2016.
Colin Godfrey, partner of Tritax, said: "Prime quality big box warehouses are in high demand from occupiers requiring close access to the densely populated London conurbation. This is one of the very few sites inside the M25 capable of accommodating a facility of this size."
At present specifications of the cross docked facility foresee a warehouse unit 593,425 sq ft with offices totalling 27,857 sq ft. The warehouse unit would have72 dock and 16 level access doors and there would be room for 326 cars and 287 HGVs.
Letting agents for the scheme are Altus Edwin Hill, JLL and Dowley Turner Real estate. Colliers is advising Ocado.
Ocado is also going ahead with a 36,600 sq ft delivery hub at Chequers Lane in Dagenham which is expected to open this year with the creation 300 jobs.