The October 2017 edition of Logistics Manager is now out in print, online and for iPad and Android.
COVER STORY
Home Delivery: Diamond in the rough
Demanding customers, growth of volume and intensifying peaks are putting crushing pressure on home delivery, but will its facilitators crack?
Forklift Trucks: Adroitly automated
Forklift trucks are not only getting cleverer, the cost of sophisticated technologies is coming down. But buyers still have to think hard about the options available.
Analysis
Platooning: time for business
Who'll deliver Christmas?
Interview: Innovative thinking
Max Sammartano, Linde's new UK chief, explains how the company is responding to market changes.
Preview: See how robots are changing logistics
Supply chain and logistics professionals will get a unique opportunity to learn how robotics is already changing the industry later this month when the Robotics & Automation exhibition opens in Milton Keynes.
Packaging: A vital cog in the wheel
Is packaging keeping up with the rest of the logistics process when it comes to technology?
West Midlands: Under pressure
Strong take-up and strong demand – how is the region coping as one of the UK's property hot spots?
Design & Build: Risky business
Design and build development used to be a risky business.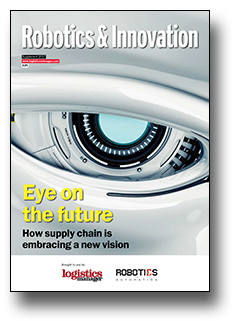 SPECIAL SUPPLEMENT WITH THIS ISSUE
ROBOTICS & INNOVATION
Analysis: Exclusive Survey
How do supply chain professionals view the development of robotic systems? Our robotics and innovation trend survey reveals all.
Automated Warehouses
Complex designs in the retail market show more reliance on the warehouse..
Robotics In Industry
An increasing number of activities can benefit from using robots..
Innovation In The Supply Chain
The supply chain is experiencing some exciting new developments…
Click here to read the online edition.
---
Click here to subscribe to the print edition of Logistics Manager