The Omni-Channel Conference starts today at the Grand Connaught Rooms in London. Senior figures from retail and beyond will gather for the annual two-day conference to discuss the issues key to the future of the industry.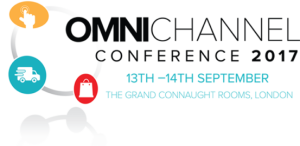 Delegates will hear from speakers specialising in different areas of the industry, including conference chair Dr Jonathan Gorst, who is principal lecturer at Sheffield Hallam University, who will focus on the issues of returns and how the use of a tool kit can improve this.
Nick Fox, chief operating officer at the snugg.com, will examine the cross border opportunities in Europe and the rest of the world including Europe, US, Mexico and Canada.
Vinesh Patel, operations manager – mobile at Sky will focus on the issue of returns. He will look at robust strategies for returns to work more efficiently, how retailers benefit from free returns, and the importance of communication with the customers to ensure they find the right product. Patel will also take part in a panel discussion looking at why return rates are so high.
Guests will also hear from Starship Technologies, Mattel, as well as many others.
Get the latest updates on speakers and sponsors at: www.omnichannelconference.co.uk
Exhibitor And Meeting Partner: Honeywell Vocollect Solutions
Honeywell Vocollect solutions is a leading provider of innovative voice-enabled workflow and data collection solutions that help companies with mobile workers run a better business. Vocollect voice solutions help businesses increase worker productivity up to 35 per cent, while reducing errors up to 25 per cent, and training time up to 50 per cent. they are specifically designed to leverage existing ERP and WMS technology investments with the industry's broadest and deepest data integration solution portfolio. Vocollect voice is based on the industry's top-performing voice recogniser, purpose-built for challenging industrial environments. our elegantly integrated hardware solution, from the headset to host data system, provides maximum worker confidence and ergonomics.
W: www.honeywellaidc.com/vocollect.