A quarter (24%) of food, fashion and health retailers have said that supply chain delays resulting from coronavirus is a 'significant' issue for their business.
According to a survey by  Retail Economics and global law firm Squire Patton Boggs a further 28% said that they had experienced delays but they could manage the disruption, while 48% said it had had no impact on supply chains.
Furthermore, a quarter (24%) of retailers surveyed also believed that their business would be permanently changed, including the switching of suppliers, investing in online operations and risk mitigation.
Retailers were most concerned about the damage the virus could have on consumer confidence. Almost half (45%) of retailers surveyed said they had seen a negative impact on sales already, while three quarters (75%) of them expect a negative impact on sales if the virus persists.
A separate survey among UK households revealed that over a third (39%) of consumers are worried about product shortages as a result of the coronavirus, which has led to almost one in 10 consumers (9%) to stockpile.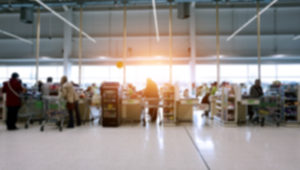 Richard Lim, chief executive at Retail Economics said: "Retailers are battling against significant disruption to supply chains as the coronavirus has choked off production in China.
"While the impacts may not yet be apparent on shop shelves, around a third of retailers suggested that 'continuity of supply' is currently their biggest concern.
"Of even greater concern for other retailers is the impact on consumer confidence and the effect this will have on their behaviour."
Earlier this week Kantar WorldPanel reported that sales of hand sanitiser increased by 255% in February.
Supplier contracts
Matthew Lewis, head of retail at Squire Patton Boggs, said: "Maintaining an effective supply chain and an operational workforce is critical to retail and to the long-term health of the sector and the wider economy.
"The most staggering result shows that just under 45% of retailers and those operating in the supply chain do not have the option to switch suppliers to mitigate against the impact of the coronavirus. This raises serious concerns about business continuity. It is not too late and retailers should look at their supplier contracts.
"Whilst it is comforting to see that over 90% have produced guidance for their staff, this message may not be getting through to employees as almost half of consumers indicated that their employer had not sent advice regarding what to do in the event of employees being suspected of carrying the coronavirus.
"Employers will know they have a duty to ensure the health and safety of their employees and members of the public and they should be taking action to ensure they can maintain operations whilst, at the same time, protecting those who are potentially at risk.
"The situation is rapidly changing and retailers and those operating within the supply chain should ensure they stay up-to-date with the latest guidance and advice from public health agencies."