Purple Robotics, which has developed a vacuum gripper specifically for cobots, has now been acquired by OnRobot.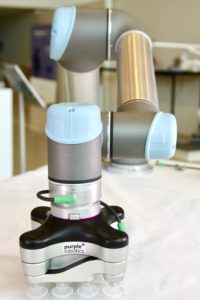 OnRobot was established in June 2018 as result of the merger of three end-of-arm tooling companies to facilitate the on-going growth of collaborative robotics. These were US-based Perception Robotics, Hungary-based OptoForce, and Denmark-based On Robot to become OnRobot A/S.
The Purple Robotics dual vacuum gripper is designed to give a robot arm two "hands" and thereby the ability to handle several items simultaneously and solve multiple tasks in one movement.
It also has an electric pump integrated in the gripper itself, meaning that users need not worry about hoses, compressed air, and cables.
The company said it takes less than 30 minutes to install the Purple Robotics gripper on a robot and start it up. "The vacuum gripper is able to gently and efficiently handle items of many different dimensions, weights, materials, and shapes. The lifting capacity is 10 kilos and the robot gripper is designed for use on a wide range of light-weight robots from all robot manufacturers.
"We are now one step closer to our vision of offering "one-stop-shopping" for buyers of robot accessories", said Enricro Krog Iversen, chief executive of OnRobot.
"Purple Robotics will definitely not be our last acquisition. We have our eye on a number of other, interesting companies around the world."