OrderWise senior sales manager Jon Roberts spoke about the benefits and importance of robotics within the warehouse on day one of the IntraLogisteX exhibition at the Ricoh Arena, Coventry.
Roberts noted that robotics is often perceived as being expensive and complicated, especially when compared to corporate companies like Amazon.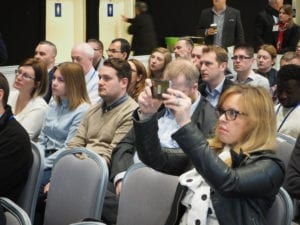 Manual picking can be inefficient, said Roberts, as workers end up having catch ups, double back on themselves, going to the wrong bin etc. He pointed out that 50 to 70 per cent of a pickers time is spent walking between stock than what they are employed to do.
This is where robotics can generate cost savings, particularly when it comes to issues of labour shortages in the face of heightened consumer expectations and demand drives.
Robotics can address this as employing workers can incur extra costs, said Roberts. He asks, how much does a picker cost? After recruitment cost, living wage, national insurance, retirement, training etc., the cost becomes between £22,000 – £26,500.
And yet the key differentiator is the speed of delivery and companies could make a higher margin due to robotics, especially as it lowers the cost of fulfilment.
Robotics can also cater to the warehouse shortage and save space. Stock can be stored on pods, which enables for higher stack density – 35 per cent more, according to Roberts.
He also pointed out that robots do no require ambient temperatures or bright lighting enabling extra cost savings be made.
The IntraLogisteX exhibitions takes place on the 26- 27 February. Find out more information here.