The August 2018 edition of Logistics Manager is now out online and for iPad and Android.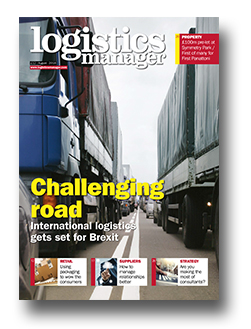 Cover story: Challenging road
International logistics gets ready for Brexit. When companies begin to think outside the box, or outside country borders, often the playing field changes. We investigate how businesses can best navigate the open waters of international logistics…
Retail: Packaging to wow the consumer
Packaging holds increasing importance in retail as the popularity of e-commerce grows, leaving retailers to make their mark on customers based on packaging and delivery time alone. So what key aspects do retailers need to consider to 'wow' consumers?
Leader: A tale of two cities
Anyone trying to do logistics in London is all too aware of the problems: massive traffic jams, night time lorry bans, and nowhere to stop to make a delivery…
Suppliers: Are you heading for couples therapy?
Managing relationships with suppliers is one of the most challenging parts of the procurement and supply chain management process. So what does it take to succeed, and can technology help?
Supply chain strategy: Time for a consultation
Consultancy has played a key role in the development of supply chain strategies. But how do organisations make the most of the resource?
Property
Jack Wills picks Sheffield for 390,000 sq ft DC / Uniserve takes on 192,288 sq ft in Northampton / Housebuilder takes Warrington warehouse / Parts warehouse for Mercedes  / Major retailer secures £100m pre-let at Symmetry Park / First of many for First Panattoni
---
Click here to subscribe to the print edition of Logistics Manager