The March 2015 issue of Logistics Manager is now available on iPad.Cover Story:  The new face of retail
Confidence in your carrier is key for contemporary retailers faced with the transformation of their business by online shopping resulting in an increased reliance on home delivery.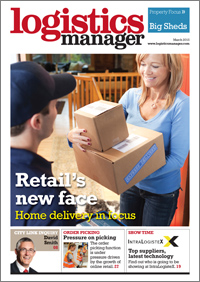 News Extra: MPs hear City Link evidence
David Smith, the former City Link CEO, has given evidence to MPs about the train of events that led to the closure of the parcels carrier on Christmas Eve.
Exhibition: Top suppliers, latest tech
It has to be IntraLogisteX, the only UK intralogistics exhibition taking place in the UK this year.
Order picking: Pressure on picking
The order picking function has come under greater pressure than ever before with change being driven by the growth of online retail.
Conference: Critical issues under scrutiny
The Logistics and Supply Chain Conference is the place where industry leaders get together to examine developments in the industry.
Big Sheds: Back in business
The news is good – despite the fact that the supply of large high quality warehouses is critical.
Scotland: Every little helps
Shortages mean that what space is available is being snapped up like hotcakes.
Forklifts: Reach trucks in demand
The retail revolution has changed the way companies organise warehouses and that is driving demand for reach trucks.
---
Get the iPad edition
Copies of this issue are available on the iPad through Apple Newsstand. Click here to visit the site.
Get your own copy of the magazine
Click here to subscribe to the hard copy of Logistics Manager.