OW Robotics is to debut an upgraded design of its goods-to-picker robotics at IntraLogisteX, which takes place at the Ricoh Arena, Coventry, on 31 March and 1 April.
OWR will live demo the system and visitors will be able to watch robots transporting pods to a picking station. The demonstration will give visitors a practical understanding of the efficiency savings possible with this system, which OW Robotics says represents the first integrated end-to-end robotic picking solution devised in the UK to facilitate next-generation warehouse operations.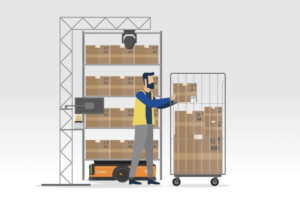 Comprising of a robot and specially designed movable racking, called pods, stock can be brought to an operative, or transported around the warehouse without any manual interaction. The system integrates with specially designed picking stations which guide operatives to the correct item using a custom overhead lighting system, along with cutting edge software to maximise throughput and efficiency at the stations.
By integrating with a client's existing ERP and/ or WMS, or by using OWR's own WMS, the system can be implemented to enable operatives to perform multiple roles, such as replenishment or stock checking, allowing them to become multi-functional.
Greg Downey, robotics business consultant at OW Robotics said: "This system represents a unique proposition in the market, offering an out of the box solution for robotic warehouse management. Where we have worked with clients to implement it, the efficiency savings have typically resulted in ROI within 12 to 24 months.
"We are eager to demonstrate this solution to existing and prospective customers and show how this technology can improve supply chain operations for all manner of businesses at the upcoming IntraLogisteX show."
In addition to the demonstration of its goods to picker solution, OWR will also be showcasing its other robotic warehouse management systems, including its A-to-B transportation and production line robotics systems at the show.

OW Robotics (stand 322) is exhibiting at IntraLogisteX – the UK's only intralogistics show in 2020 – which takes place on the 31st March and 1st April 2020 at the Ricoh Arena, Coventry. Register your interest now at www.intralogistex.co.uk