To celebrate production of the 400,000th truck at its plant in Northern Ireland, Yale Europe Materials Handling has made the largest single charitable donation in its history.
As the specially manufactured truck rolled off the production line, employees at the Craigavon factory marked the milestone by handing it over to international charity Oxfam, for use at its distribution centre in Bicester.
The ceremonial presentation of the Yale Veracitor VX, which has been signed by the staff at the Craigavon factory, was made to Oxfam's logistics manager Rod Hogg by Craigavon Plant Manager Jim Downey during celebratory event at the facility in front of an international audience of journalists, employees, suppliers, and dignitaries, including the Minister of the Department of Enterprise, Trade and Investment, Jonathan Bell MLA and the Lord Mayor of Armagh City, Banbridge, and Craigavon, Darryn Causby.
Iain Friar, Yale brand manager, said: "We are all incredibly proud that the 400,000th truck has been produced here in Craigavon, and we wanted to celebrate the contribution made by so many people in achieving that milestone.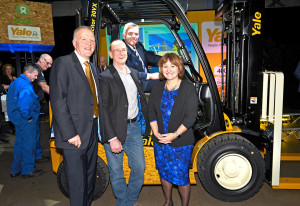 "Yale is committed to 'people, products and productivity' and we firmly believe that it is our people who have put us where we are today. The 400,000th truck is the embodiment of the innovative approach and loyalty we receive from our Yale people.
"We wanted to choose a charity with the same ethos as Yale, an organisation like ourselves that has people at its core. Not only is Oxfam internationally recognised for helping people in need, we felt that one of our forklift trucks would actually be of real benefit to its operation."
Alison Hopkinson, finance director at Oxfam said: "This forklift truck will be used in our Bicester warehouse where we hold equipment to deploy at speed wherever in the world there is an emergency.
"The new truck will replace the 20-year-old model our logistics team currently use. So not only does this truck represent a real cost saving to Oxfam, it will help us come to the aid of people in desperate need more efficiently.
"Oxfam has been fortunate to receive great support in Northern Ireland over the years relying on the generosity of its supporters and we are so grateful and touched by the Yale team's kind and thoughtful gift."
Oxfam's Bicester warehouse handles a variety of load sizes and weights, which have been manually weighed on scales prior to despatch via air freight around the world. Yale's partners, RAVAS have generously donated i-Forks for the truck to save Oxfam precious time by automatically weighing the load when it is lifted.
As Oxfam's truck needs to be always ready to respond to emergencies Yale's UK dealer, Briggs Equipment has offered to maintain and service the truck. Ceva Logistics has offered to transport the truck to the Bicester site.
Following the handover of the truck to Oxfam, the landmark day was rounded off with an evening reception at the Titanic Experience in Belfast.