Palletways is moving to contract hire vehicles for its owned transport operations with an order for 67 trucks from Mercedes Benz. The company's owned operations traditionally spot-hired a substantial number of its vehicles but has taken a strategic decision to increase the proportion of its fleet which is the subject of longer-term arrangements.
The new vehicles, a mix of Actros, Antos and Atego, include 28 tractor units and 39 rigids.
Director of owned operations Zac Brown said: "Palletways owned depots have been operating Mercedes-Benz vehicles on a rental basis for a number of years, and this experience has proved entirely positive. We are now investing in premium-quality products which offer exceptional reliability and fuel-efficiency, and have been very well received by our drivers."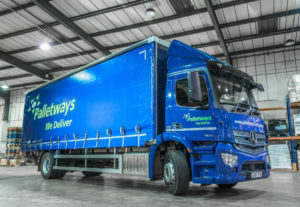 Most of the tractors are Actros 2543 StreamSpace models with advanced, 10.7-litre straight-six engines producing 315 kW (428 hp). The line-up also includes four Actros 2548 BigSpace units with 350 kW (476 hp), 12.8-litre power plants.
All of the rigids have ClassicSpace cabs and curtainside bodywork by Lawrence David, of Peterborough, with 18-tonners forming the backbone of the fleet. In addition to the 21 Antos 1824s, Palletways has ordered six 26-tonne Antos 2530s, eight 15-tonne Atego 1528s and a quartet of 7.5-tonne Atego 816s.
The tractor units and all but the smallest dozen of the rigids are equipped with optional Safety Packs which include Active Brake Assist 4 and Proximity Control Assist technology. Palletways has also specified fuel-saving Predictive Powertrain Control systems.