DHL has completed a three month test of a "Parcelcopter" which automatically delivers and collects parcels from a special pack station, dubbed the Parcelcopter Skyport.
The trial in the Bavarian community of Reit im Wink is the first time that a parcel service provider has directly integrated a Parcelcopter into its delivery chain.
Customers could insert their shipments into the Skyport to initiate automated shipment and delivery by the Parcelcopter. A total of 130 loading and offloading cycles were ultimately performed.
The Parcelcopter was an upgrade on earlier models to deal with heavier loads, longer distances and delivery to an alpine region notable for its geographical and meteorological challenges.
DHL said the Parcelcopter performed a series of flawless flights. Each round trip from a valley to a plateau at roughly 1,200 metres above sea level covered eight kilometres of flight. The drone's cargo was typically either sporting goods or urgently needed medicines and it arrived at the Alm station within eight minutes of take-off. The same trip by car takes more than 30 minutes during winter.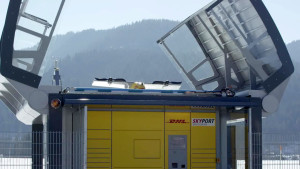 "We're the first worldwide who are able to offer a transport drone – Parcelcopter at DHL – for end-customer delivery. With this combination of fully automated loading and unloading as well as an increased transport load and range of our Parcelcopter we have achieved a level of technical and procedural maturity to eventually allow for field trials in urban areas as well," said Jürgen Gerdes, management board member for Post – eCommerce – Parcel at Deutsche Post DHL Group.
DHL Parcel will now analyse data from the trial with its R&D partner, the Rheinisch-Westfälischen Technischen Hochschule Aachen (RWTH). The findings will be used to select other potential areas for testing.