Pentalver has opened an expanded container facility at Berth 7, DP World London Gateway.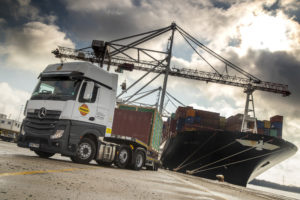 The expanded facility adds 40 per cent additional capacity to the company's operation, which includes loaded and empty container storage, reefer and dry container maintenance and repair, transport and cargo handling.
The company, part of Genesee & Wyoming, started work on Phase 2 of the site development work last August, following the opening of the first phase of the facility in 2013.
"I am delighted to see this key expansion project at London Gateway come to fruition," said G&W UK/Europe region managing director, terminal services, Chris Lawrenson.
"This investment was one of the first made by G&W following the Pentalver acquisition in May last year, highlighting their commitment to growth in the UK container sector and ensuring that we continue to provide a competitive, first-class service to customers. "We look forward to continuing to work closely with DP World in further enhancing the efficiency of operations at both London Gateway and Southampton."
DP World's UK chief executive officer Chris Lewis said: "We are delighted that Pentalver has opened its expanded container yard at DP World London Gateway. Phase two of the development has added additional capacity to the vital operations and services that Pentalver offers to our port users and customers."