Sainsbury's attempt to buy Argos is being challenged by Steinhoff, the group behind Pep & Co, which launched 50 stores in the UK from a standing start last summer.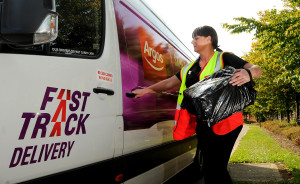 South Africa-based Steinhoff is offering shareholders in Argos parent Home Retail Group a total of 175p per share compared to Sainsbury's offer of 161.3p per share. And it said it supported the sale of Homebase to Australian group Wesfarmers.
The deadline for Sainsbury's bid has now been extended from 23rd February to 18th March.
Steinhoff's Pepkor UK subsidiary, headed by former Asda CEO Andy Bond, moved quickly to establish its high street presence with the Pep & Co fashion brand. It has more than 50 stores and uses Clipper for its logistics.
In October last year, Pepkor UK said it would establish a second UK retail format in 2016 offering a mix of general merchandise, grocery and Pep & Co clothing. It said it would open ten 10,000 sq m stores in the first half of 2016.
This new format is headed by Koray Gul, formerly managing director of GAAT, the apparel supplier chain management company acquired by Asda in 2012. Operations director is Simon Singleton, who has held senior operations and marketing roles at Holland & Barrett, Woolworths, and George at Asda.
For Sainsbury's much of the logic for the takeover of Home Retail Group comes from the work that Argos has done to create its hub and spoke logistics system, which allows it to provide the Fast Track service that includes both same-day click & collect and home delivery.
Steinhoff's other major businesses in the UK are furniture groups Bensons for Beds and Harveys. It has businesses across Europe and Australia as well as in Africa. In 2012, it bought a former Primark warehouse, the 422,000 sq ft Hydro unit at Magna Park near Lutterworth.
The group had sales of R134.9 billion (€9.8bn) in the year to 30th June 2015, while operating profit was R15.3 bn (€1.1bn).
It operates a vertically integrated supply chain which, it says, "reinforces the ability of the group to effectively deliver on its price and service proposition".
It also has a central logistics division. In its 2015 annual report it said: "The central logistics division continues to reduce costs, support suppliers and optimise infrastructure through the group's inbound and outbound logistics functions. In particular, optimisation of warehousing facilities has supported margin improvement in the group. The group secured double digit savings in ocean freight costs by aggregating container volume of 88 000 containers."