Global food and beverage conglomerate Pepsico has announced that transport of all potatoes to its Walkers Crisps factory in Leicester is now entirely powered by hydrotreated vegetable oil (HVO).
This follows the introduction of HVO as a replacement for diesel in HGVs transporting produce for two of PepsiCo's brands – Walkers Crisps and Quaker Oats – towards the end of last year.
In partnership with agricultural logistics service provider AB Texel, PepsiCo will use 800,000 litres of HVO fuel to replace diesel across approximately 1.6 million miles of truck journeys, transporting 240,000 tonnes of potatoes each year to the Leicester site.
According to PepsiCo, this initiative is set to save 2,650 tonnes of GHG emissions annually.
As Yogith Krishna, UK Import Supply Lead at PepsiCo, drew attention to at Logistics Manager's Sustainable Supply Chain Conference in May, every mile powered by HVO has around 80% less greenhouse gas (GHG) emissions than standard diesel.
If you haven't already, check out the morning and afternoon highlights from the Sustainable Supply Chain Conference for more valuable insights from Krishna and other industry experts.
Pepsico's sustainability targets include a 75% absolute GHG reduction in its own operations by 2030 and net zero by 2040.
Simon Devaney, UK Sustainability Director at PepsiCo, said: "We're always looking for innovative ways to tackle our carbon footprint and the move to HVO for all our potato deliveries to Leicester, the home of Walkers, is a significant step. HVO fuel plays an important role in helping us to accelerate the decarbonisation of our transport activities."
In addition to the switch to HVO, PepsiCo has this week deployed two electric trucks to transport goods between two of its factories in Leicester and Coventry. It has also invested £60 million in upgrading its Leicester site, delivering sustainability improvements such as replacing gas-fired ovens to ones powered solely by renewable energy.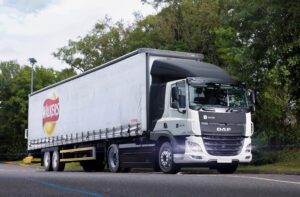 Meanwhile, AB Texel has its own sustainability goals that it hopes its use of HVO fuel will contribute towards.
Lewis Chisholm, Director of AB Texel UK, explained: "We acknowledge that we as AB Texel Group, must act now to make a difference for the future and want to contribute to the sustainable transition of the transport sector.
"We strive for long-term partnerships with forward-thinking businesses like PepsiCo to jointly realise our sustainability ambitions and add value. Our ambition is to limit our effect on global warming by reducing our own CO₂ emissions to 0% by 2050.
"The use of renewable fuels, in which we are taking an important step together with PepsiCo, contributes to the realisation of this ambitious goal."
For more on sustainable logistics, check out this feature in the July issue of Logistics Manager Magazine!