Planning permission has been granted for further development of Howard Tenens' Sharpness site. The logistics company is finalising plans for the development before "deciding whether they proceed to speculatively develop what will be known as "Bristol Gateway II".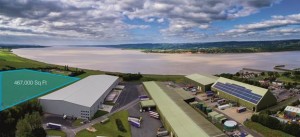 The additional development would see the total space increase to 1 million sq ft.
This comes after the company leased a 170,000 sq ft warehouse at Bristol Gateway to CM Downton.
"We are delighted to have received this planning consent which will, once developed, provide some 467,000 sq ft of additional warehouse space over two buildings with 16m to eaves," said Simon Emms, property director at Howard Tenens. "Having secured a long term letting to CM Downton on the recently developed Bristol Gateway and with our current high occupancy levels allied to the demand for warehouse space in the market we are very excited about the prospects for this development."