Infrared Capital Partners is proposing a 147,000 sq ft industrial development at its Triumph Business Park in Speke, which if approved would bring the total business park to almost 1 million sq ft.
The proposals are in line with the company's plans which it revealed last October when it bought the scheme for £30 million in a private transaction.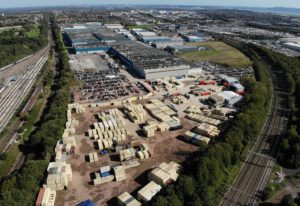 At the time the company said: "InfraRed intend to implement a value-add strategy, driving increased employment and inward investment in the area by developing a further 10 acres+ on the site."
James Cooper, director, real estate and head of UK & Ireland, said at the time: "We are delighted to have completed this transaction and look forward to implementing numerous initiatives on site. This includes development of a new multi-let format on surplus land, maintaining sustainable specification.
It is now though the company will develop six warehouses on surplus land to the south west corner of the 65-acre park. The units range between 12,400 sq ft and 36,000 sq ft.
When it was sold the park had 15-acre of open storage as well as a 10-acre development plot.
Taylor Wessing, J3 Partners, Peloton, Network Space and Christopher Dee acted for InfraRed. The vendor was represented by Remstone Property Management, B8 and Hill Dickinson.