Prime Minister Theresa May has called for global action to stop modern slavery, and set up a new task force to tackle the issue.
Companies now have to publish a statement a statement on the action they have taken to ensure their supply chains are slavery free, under legislation which came into force earlier this year. But May wants to see further action. The new task force will have four objectives:
Bring efforts and resources targeted at modern slavery in line with resources to tackle other forms of organised crime – including increased investigatory resource, capabilities and intelligence provision;
Increase and improve investigations into the perpetrators of modern slavery, through further education of law enforcement officers on the nature of modern slavery offences; the provision of additional tools to support investigations such as greater data and intelligence; and more effective use of joint investigation teams;
Improve successful prosecution levels with further education of prosecuting authorities on modern slavery, and improvements to the quality of supporting evidence;
Improve international cooperation to tackle modern slavery.
It will meet for the first time in October.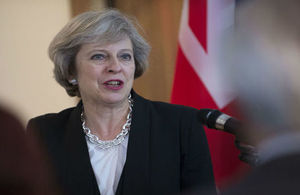 "The UK is leading the world with our efforts to stamp out modern slavery," said May. "Just over a year since the Modern Slavery Act came into force, convictions are up, more victims are getting support and there are more police investigations into this abhorrent crime.
"But there is still much more to do. Across the world an estimated 45 million people are enduring experiences that are simply horrifying in their inhumanity. That's why I am determined to drive forward international action to eradicate modern slavery."
The government is also investing £33 million from the UK aid budget to confront slavery in high-risk countries. At least £5 million from the funding will go towards tackling the issue in Nigeria.
Commenting on the prime minister's statement, Kosten Metrewli, CMO of Segura, said: "It's encouraging to see that the government has taken such an uncompromising stance against modern slavery. We hope that the new taskforce will make a real difference in the fight to eradicate slavery not only in the UK, but across the globe.
"But the buck doesn't stop with the government. They are clearly putting heavy onus on big businesses to be much more open about their manufacturing supply chains and ultimately allow consumers to see exactly where their goods are coming from."