Porsche has commissioned a fully electric 32-tonne MAN eTGM truck to enhance its production logistics at its Stuttgart-Zuffenhausen site, saving over 30,000 kilograms of CO2 emissions per year.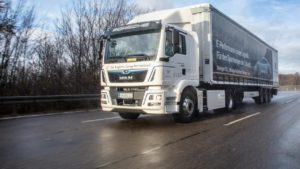 The battery-powered eTruck is a MAN eTGM 18.360 4×2 LL weighing 32 tonnes when combined with a semitrailer. It uses lithium-ion batteries with a storage capacity of 149 kWh enabling the truck to cover a range of 130 kilometres.
The eTruck produces low noise emissions and has reduced wear and maintenance, using recuperation to decelerate without mechanical braking to minimise brake abrasion.
"With the MAN eTGM, electric commercial vehicles have taken a large step towards series production and can now reliably demonstrate their abilities in everyday operation," said Dr Frederick Zohm, member of the Executive Board MAN responsible for research and development.
The truck is the first vehicle of this kind that has gone into series production in Germany. It is part of Porsche's "zero-impact factory" strategy.