DX and John Menzies' boards are currently in discussions regarding a potential combination of DX and Menzies' distribution division.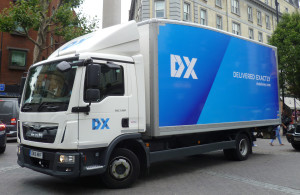 The partnership would see the creation of "of a logistics and parcel carrier of enhanced scale and capability operating through a 24 hour UK wide logistics network."
The combination is predicted to generate cost synergies in the range of £8 million to £12 million per annum.
A statement from both companies read:
"It is currently envisaged that the Transaction would be effected by DX acquiring Menzies Distribution for consideration, on a cash and debt free basis, comprising £60 million in cash and the issue of new DX ordinary shares (the "New DX Shares") representing 80% of DX's issued share capital as enlarged by the Transaction. The cash consideration will be satisfied by new borrowings by the Enlarged Group.
"It is intended that the balance of the New DX Shares would be issued by DX to John Menzies' shareholders pro rata to their holdings of shares in John Menzies at the relevant date. On this basis, current DX shareholders would own, in aggregate, 20% of DX's issued share capital, John Menzies shareholders would own, in aggregate, at least 75% of DX's issued share capital and up to 5% of DX's issued share capital would be owned directly by John Menzies' pension scheme. "
"On completion of the Transaction, it is intended that the composition of the board of the Enlarged Group would comprise a new chairman and new independent non-executive directors. Greg Michael and Paul McCourt, currently Managing Director and Finance Director, respectively, of Menzies Distribution, would become Group Chief Executive Officer and Chief Financial Officer of DX. Daljit Basi, currently Finance Director of DX, will become an Executive Director. "