Premier Farnell invests in 360,000 sq ft Leeds DC
Technology distributor Premier Farnell has invested in a 360,000 sq ft distribution warehouse in Leeds. The new site is located at Muse Development's Logic Leeds.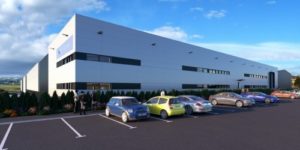 The facility will stock over 420,000 products and has the potential for up to one million square feet of distribution capacity.
"This is a significant investment in a modern, automated warehouse, made possible by the opportunities for growth in the market and the support of our American parent company, Avnet," said Graham McBeth, president of Premier Farnell. "I am delighted that we are retaining our presence in Leeds."
Nick Wilkins, chief supply chain officer at Premier Farnell said: "Premier Farnell has a strong history in the Leeds area and we have great confidence in the Yorkshire workforce. This new warehouse, with great transport links, retains jobs in the region and will allow us to grow to support market demand."