A strong performance from Maersk Line helped AP Moller – Maersk to an underlying profit from continuing operations of $356 million in 2017 – up from a loss of $496 million in 2016.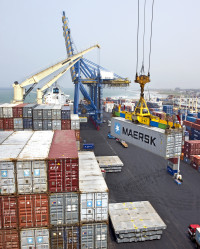 However, losses from discontinued operations meant that the group made a loss for the period of $1.2 billion. Group revenue was up from $27.3bn in 2016 to $30.9bn.
Group chief executive Søren Skou said: "The past year was unusual for AP Moller – Maersk, characterised by a cyber-attack and operational challenges in a few hubs. We succeeded in growing the revenue by 13 per cent, improving cash flow and increasing underlying profits from a low 2016 base.
"However, the financial result shows that significant improvements are still needed. On the other hand, when we look at the strategic business transformation, progress throughout the year has indeed been satisfactory. We have taken the first steps towards the integration of our container shipping, ports and logistics businesses and our digital transformation is taking shape. At the same time, we have found new owners for part of the energy-related business units."
Maersk Line and Damco were severely impacted by a cyber-attack in the third quarter. The group said Maersk Line recovered quickly with strong volume growth and near all-time low unit costs toward the end of the year. Stronger cooperation between Maersk Line and APM Terminals generated the first integration synergies of around $100m despite negative impact from the cyber-attack and operational challenges in key hubs.
The group acquired Hamburg Süd and is looking for cost synergies from the merger of $350-400 million by 2019, primarily from integrating and optimising the networks as well as standardised procurement.