UPS made an operating profit of $7.5 billion in 2017, up 38 per cent on the year before. Revenue for the year was up 8.2 per cent to $65.9 billion.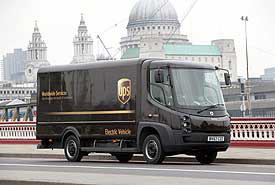 "We achieved our 2017 adjusted earnings-per-share target through exceptionally strong revenue and yield growth, coupled with benefits from our network investments and portfolio initiatives," said chairman and chief executive David Abney.
"We made significant progress on key capacity investments in 2017. Our momentum, transformative actions and the economic catalyst from the Tax Cuts and Jobs Act (TCJA), position UPS for growth in 2018 and beyond. We expect to unlock significant resources, which will be available for accelerated investments in our network and create additional opportunities for our people."
In the fourth quarter, operating profit was $1.5 billion compared to a loss of $428m in the fourth quarter of 2016. Revenue was up from $16.9bn to $18.8bn for the quarter.
The international parcels business was the star performer with operating profit rising from £281m to $725m in the fourth quarter.
The US domestic business moved back into profit in the fourth quarter turning a $570m operating loss into a $627m operating profit. "Revenue per piece increased 2.9 per cent, as higher base-rate pricing and fuel surcharges offset headwinds from customer and product mix. Shipments surged beyond network capacity during Cyber-periods driving additional operating cost of $125 million," UPS said.
The supply chain and freight business went from an operating loss of $139m in the fourth quarter of 2016 to a profit of $142m in the fourth quarter of 2017.
Looking ahead, chief financial officer Richard Peretz said: "Our growth opportunities are accelerating. The strong economic outlook and UPS's high return on invested capital generates a unique opportunity to create additional long-term value by increasing capital investments. These investments enable UPS to execute our strategy and we are well-positioned for 2018 and beyond."