Deutsche Post DHL increased both profits and margins last year and has set a target of making an operating profit of €5 billion by 2020.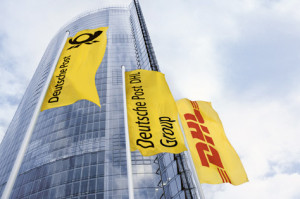 Operating profit (EBIT) increased by 7.2 per cent to €3.74bn in 2017, while revenue was up 5.4 per cent to €60.4bn.
Chief executive Frank Appel described the 2017 performance as "another major step on the road to achieving our strategic and financial goals for 2020".
The Supply Chain division won €1.5 billion worth of additional contracts last year helping increase sales by 1.4 per cent to €14.2 bn.
However, operating profit declined by three per cent to €555 million. The group said "the positive effects from the expanding business and the successful conclusion of the division's optimisation program were not sufficient to offset the one-off effect resulting from a write-down of customer relationship assets. Adjusting for this negative effect, EBIT improved by 2.6 per cent."
The star performer was the Express division which increased sales by 9.5 per cent to €15.0bn, driven by the international time-definite delivery business, where daily volumes increased by 9.9 per cent year on year.
Operating profit grew by 12.4 per cent to €1.7 bn "on the back of strict yield management and continuous improvements in the network. The operating margin rose to 11.5 per cent, up from 11.2 per cent in the prior year."
Sales in the Global Forwarding, freight division rose by 5.4 per cent to €14.5 bn, with significant volume growth in both air and ocean freight. Road and rail transport also grew in Europe, particularly in Germany. EBIT increased by 3.5 per cent to €297 million, although the group said margins in air and ocean freight "came under appreciable pressure particularly in the first half of 2017 due to the considerable increase in freight rates. In the second half of the year, the division was increasingly able to pass on the higher prices to its customers and with this significantly improve earnings in the last six months."
The German mail and parcels business, PeP, increased operating profit by 3.9 per cent to €1.5bn on revenue up 6.4 per cent to €18.7bn. The group said the principal factors contributing to the increase were growth in the German Parcel business, stable Post revenues and disciplined cost management.
"With our international focus and our firm orientation towards the fast-growing e-commerce market, we implemented the right measures early on and are now positioned better than ever for future growth. At the same time, we are increasingly leveraging the digitalisation opportunities that present themselves in all four divisions and expanding our foundation for a successful future," said Appel.