Parcels specialist DX increased underlying EBITDA by 5.2 per cent to £14.2m in the half year to 31st December, while revenue was down marginally at £147.4m.

Petar Cvetkovic, chief executive officer, said: "In a challenging trading environment, I am pleased to report that DX has delivered a satisfactory financial performance in the first half of the financial year."
He warned that some operators were continuing to offer unsustainably low prices despite the demise of City Link. "The wider effects of the demise of City Link on the rest of the UK parcels industry is not easy to predict with clarity.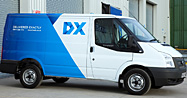 "Capacity has been taken out of the market, however some operators continue to offer unsustainably low prices to attract additional volume for expanded or new facilities. We take a cautious view and in the meantime are working hard to offer solutions to Customers who seek a more managed solution," he said.
Operationally, DX's key focus remains on the 'OneDX' programme which includes bringing together DX Freight, the former Nightfreight business, with its wider operations. "At the same time, we are developing and optimising our network. Our goal remains that of achieving a "OneDX" proposition of fully integrated and complementary services under one brand, delivered through an efficiently run network to create enhanced delivery solutions which offer our Customers breadth of choice, quality and value," said Cvetkovic.
The Mail & Packets business saw revenue rise 1.9 per cent to £56.4m in the first half. Revenue in Parcels & Freight fell 4.8 per cent to £77.3m as the company exited commercially unattractive contracts that came up for renewal.
DX continued to integrate DX Freight's service centres with the wider network. "Completed co-location projects to date have reduced the number of sites by 15 to 72, while improving the quality of facilities and increasing capacity. A further 9 co-location projects are currently being planned that would reduce the network by a further 13 service centres. In addition, we are continuing to optimise delivery routes and invest in scanning, tracking and sortation technology."
Cvetkovic said: "Our goal for the year is further steady and controlled progress with our major initiatives as we work towards the creation of our 'OneDX' proposition. We also remain focused on those areas of the market which require our more specialist services, including our time-sensitive, mission critical/high value and 2-Man delivery services. Customer service as ever remains a priority."