Profits rose at Kuehne + Nagel last year mainly driven by a strong performance in the Seafreight division.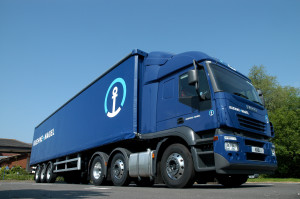 Group EBITDA was up 3.6 per cent to CHF1,041m (£742m) for the year to 31st December. Turnover was down from CHF 21.3 billion (£15.2bn) to CHF 20.3bn (£14.5bn) mainly due to the strength of the Swiss Franc.
In Seafreight, EBIT was up 15.3 per cent as the gross profit per TEU increased by 5.2 per cent. In total the company handled 3.8 million TEU, the same as last year. It said the market had been characterised by highly
volatile rates and weak growth. K+N's focus on profitable business meant that volumes declined in the first half but in the second half there were profitable volume increases in the North American and intra-Asian trade lanes.
Growth in European exports stagnated due to regional differences in demand, but Kuehne + Nagel increased volumes in trades to and from North and South America.
In airfreight, Kuehne + Nagel increased its tonnage by 4.7 per cent to 1,250,000 tonnes. It put the focus on industry-specific airfreight solutions, which led to business wins in the pharmaceutical, aerospace and perishables sectors. EBIT improved by 11.3 per cent.
In Contract Logistics, net turnover saw a currency-adjusted increase of 5.5 per cent, but the division's result was particularly affected by the drinks logistics business in the UK along with negative currency effects. EBIT fell from CHF 153m (£109m) in 2014 to CHF 119m (£84.9m).
In the Overland division, the operational performance in overland remained stable despite the challenging markets in Europe. EBIT decreased from CHF 30 million in the previous year to CHF 7 million is mainly due to an antitrust fine imposed by the French competition authority on twenty French parcel service providers, including a CHF 34m (£24.2m) fine for the Alloin Group, a French transport company, which Kuehne + Nagel took over in 2009. Kuehne + Nagel lodged an appeal against the French competition authority's decision.
CEO Dr Detlef Trefzger said: "We are proud that in a challenging environment we were able to further increase profitability and once again achieve a new record result."
* The board of directors at Kuehne + Nagel have put forward vice chairman Dr Joerg Wolle for the role of chairman of the board of directors. Dr Wolle will succeed Karl Gernandt, who will take on the role of president of Kuehne Holding AG in May this year. The board of directors has also proposed the appointment of Hauke Stars to the board.