Profit rose six per cent at Unipart last year to £27.5 million on sales up ten per cent to £868.6m.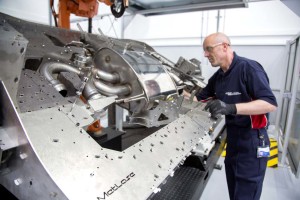 During 2015, Unipart established a Chinese regional hub in Shanghai for Jaguar Land Rover, as well as developing a number of new systems for JLR's overseas operations. Subsequently, Unipart also opened a purpose-built distribution centre for Jaguar Land Rover in India, growing Unipart's footprint on the sub-continent.
New logistics contracts included Kubota, the construction, agricultural, ground care machinery, and engine manufacturer, which appointed Unipart to manage its national parts distribution and logistics function from Oxford.
HSS Hire Group, the supplier of tools, equipment and related services, awarded Unipart a long-term contract to establish a new national distribution and engineering centre at Cowley, and to continue the deployment of Unipart's IT and operational excellence systems.
Unipart also launched a joint venture with Rolls-Royce called MetLase. MetLase uses high precision, laser cutting technology, and patented assembly and joining systems, to enable engineers to produce prototypes rapidly.
Chairman and group chief executive John Neill said: "The MetLase technology originated in the aerospace industry and will now be available to companies in other sectors for the first time."
Unipart also increased its research and development activity through The Institute for Advanced Manufacturing and Engineering. In just over a year, the joint venture with Coventry University has developed a new exhaust system for Aston Martin weighing half the previous weight, and designed new fuel systems for Ford providing customers with greater efficiency, economy and ultimately reducing fuel consumption.
Neill said: "We have invested over 30 years in building our Unipart Way ecosystem. We are now creating new digital components to enable us to deploy the system with greater speed and agility on a global basis for our own operating companies and our clients."
Total Group profit before interest, tax and exceptional items has gone up by 6 per cent, from £26 million in 2014 to £27.5 million in 2015. This included the Group's share of profits from joint ventures and associates.
Last year Unipart won the Third Party Logistics Provider Award in the European Supply Chain Excellence Awards for its relationship with Waterstones.