Developer Prologis has started develop a 172,222 sq ft Small Business Unit warehousing facility at its 2.4 million sq ft Prologis Park Chorzów in Poland.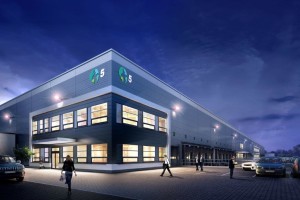 The building is already 45 per cent pre-leased to an express shipping services company. Completion is scheduled for the second quarter of 2016.
With the smallest units starting at just 828 square metres, the urban distribution facility appeals to customers looking for high quality, flexible office and distribution space within the city limits. The facility is designed with cross docks, wherein each unit is equipped with a level-access gate and two loading docks. Units can be combined to customize space for individual customer needs. This flexibility allows for the most efficient use of the space and helps to reduce operating costs.
The park is located on the western outskirts of Katowice, in the immediate vicinity of the A4 motorway connecting Ukraine and Germany, and is 15 kilometres from the Gliwice-Sośnica interchange, a junction of two of the largest international transport corridors in Poland.