Prologis is to develop speculatively a 500,000 sq ft plus warehouse at its Prologis RFI DIRFT scheme at junction 18 of the M1 motorway in Northamptonshire.
Daventry District Council has given its approval to a 535,000 square foot industrial logistics building at the site.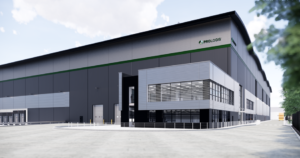 The expansion at DIRFT was authorised via a Development Consent Order (DCO), a special kind of consent for major infrastructure projects in England and Wales. The level of detail contained within the initial submission and consultation helped to bring about a quick decision and will help secure further investment on the logistics park.
"The DCO planning process at DIRFT means we can give certainty to any customers looking for a bespoke logistics building within a short timeframe," said Phil Oakley, market officer in the leasing & development team at Prologis UK and an advocate of rail-served logistics.
"Working in partnership with Daventry District Council we have now reduced the time taken to bring forward a bespoke building from a typical 13 weeks for planning approval to just 8 weeks at DIRFT."
Councillor David James, Economic, Regeneration and Employment Portfolio Holder on Daventry District Council, said: "DIRFT is an important part of the local economy, bringing investment and employment to Daventry District, and further cementing this area as the favoured location for many of the UK's leading logistics operations.
"Daventry District Council prides itself on taking a forward-thinking approach, and this is a great example of a developer working in partnership with the local planning service to deliver a valuable project."
"We know that speed is often of the essence for our customers," Oakley said. "For this reason, DIRFT is ready to go and already benefits from over 30 MVA of electricity. This is an important consideration for our customers as power supply is crucial in the drive towards automation."