Radius Systems, the polyethylene pipe producer, has extended its contract with XPO Logistics to incorporate a daily distribution service of fittings to Ireland and Northern Ireland.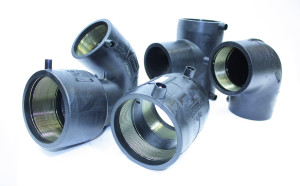 Steve Ellis, Radius Systems head of supply chain, explained: "We've been working closely with XPO Logistics to consolidate our logistics operation by putting in place more efficient systems and work practices to improve our delivery targets.
"This is great news for our customers in Ireland and Northern Ireland, who are already benefiting from the innovations we've put in place. With this new integrated process, we are a stage further in developing and implementing smarter solutions to move our logistics function forward and deliver increased customer confidence and satisfaction."
The two companies have developed a new distribution model that improves the delivery of fittings s. The enhanced process will increase the delivery frequency of in-stock goods from twice weekly to daily, using integrated technology that facilitates a seamless data flow from order handling to fittings despatch.