Renault Trucks has unveiled its second generation electric vehicles which range from 3.5 to 26 tonnes and are designed for use in the city.
The Renault Trucks D and Renault Trucks D Wide ZE will be manufactured in the Renault Trucks plant at Blainville-sur-Orne and will arrive on the market in 2019. The Renault Master ZE will be available in 2018.
The company has been field testing electric trucks with its customer-partners for more than ten years.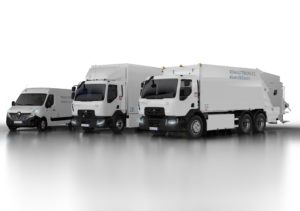 "Ten years' ago, we were the pioneers, promoting electric trucks to improve city air quality", said president Bruno Blin "Today we can offer a range of electric vehicles with proven performance and the experts in our network are ready to help our customers transition to electromobility."
The Renault Trucks Master ZE, which will be released in September 2018, is designed for last-mile deliveries. The battery of this all-electric utility vehicle takes six hours to charge.
Its loading volume is the same as a conventional diesel Renault Master as the batteries are mounted under the front seats. It comes in six variants – four panel vans and two platform cabs.
Renault Trucks D and Renault Trucks D Wide Z.E. for urban deliveries and refuse collection
The 16 tonne version of the Renault Trucks D ZE is designed for urban and controlled temperature deliveries. It has an operating range of up to 300 km depending on usage and battery configuration.
Rapid DC charging means the lithium-ion batteries can be fully charged in as little as one to two hours via the 150 kW Combo CCS connector. For overnight AC charging, the time to fully charge a 300-kWh battery is 12 hours
The Renault Trucks D Wide ZE will come in a 26 tonne version for refuse collection.