Renault Trucks has won a deal with Wicks Group, the waste management and recycling company.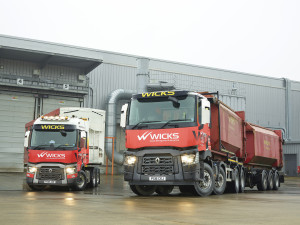 The contract involved the delivery of a 44-tonne Range T520 tag and Range C430 8×4 drawbar unit. The trucks, which are the first Renault vehicles to join Wicks' 13-strong fleet, are operating out of the company's Barrow-in-Furness base.
The Range T is being used for bulk tipper work and features tipping and walking floor hydraulics, voith retarder, dura-Bright alloys, light bar and a 9-tonne front axle.
"The Range T was the first Renault Truck on our fleet and it's been very positive to see it already returning a great fuel consumption of 7mpg which is equivalent or better than our existing trucks," said Wicks Group managing director, David Wicks. "This is a very good return for the type of work it does and I am confident that the fuel returns will improve further over time as the vehicle runs in."