CNG Fuels has launched renewable biomethane for HGVs, a cost-effective and low carbon alternative fuel to diesel. Big retailers, such as Waitrose, John Lewis, Argos and Brit European are some of the first to use the fuel for their delivery lorries.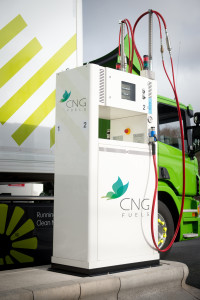 According to CNG, the government approved fuel is 35 to 40 per cent cheaper than diesel, and emits 70 per cent less Co2 on a well-to-wheel basis.
The fuel is sourced from gas and generated by waste from food production.
"Renewable and sustainably sourced biomethane is the most cost-effective and lowest-carbon alternative to diesel for HGVs, and is attracting increasing interest," said Philip Fjeld, CEO of CNG Fuels. "We are expanding our refuelling infrastructure nationwide to help fleet operators save money, cut carbon and clean up our air. We are proud to be the first company in the UK to offer its customers RTFO-approved biomethane, and are pleased to be able to do so at the same price as fossil fuel gas."