Rugged hardware, software and services provider Renovotec is to feature Honeywell's Thor VM1A vehicle mounted computer and ScanPal family EDA60K mobile computer at the IntraLogisteX exhibition which will take place on the 26-27 February at the Ricoh Arena, Coventry.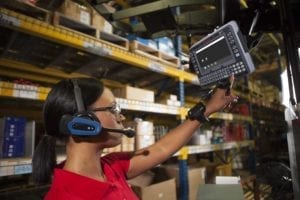 The EDA60K has been developed to speed data input and increase productivity for mobile on-site workers in retail inventory management, light warehouse management and e-commerce logistics workflows. The EDA60 uses a Qualcomm quad-core processor and runs on the Android 7.1 (Nougat) operating system. The VM1A a Qualcomm 660 processor, integrated keyboard and read-anywhere 8-inch-touchscreen.
Renovotec will offer 5 years maintenance for the price of 3 on the VM1A and 3 years maintenance for the price of 1 on the EDA60 at the show.
"We are the UK's leading independent rugged technology provider for supply chain companies. IntraLogisteX is the right venue for us and more importantly, it is time well spent for our users," said Renovotec managing director Richard Gilliard.
Register here for IntraLogisteX.