The Rhenus Group has bought Manchester-based two-man handling company Network 4 Home Delivery.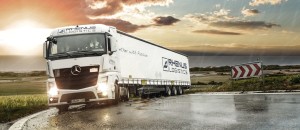 Network 4 Home, which specialises in the delivery of beds, mattresses and white goods, also has sites in Milton Keynes and London.
"The e-commerce business is growing in Great Britain far faster than in the rest of Europe and this offers us the opportunities to introduce our logistics expertise," said Nicolas Rottmann, managing director, Rhenus Home Delivery.
"We can cover the complete British market with Network 4 Home Delivery and offer complete international solutions and additional services like customs clearance for goods to customers within the Rhenus Group's network."
---
Rhenus starts development at Port Salford
Rhenus Logistics has begun the development of its new headquarters and warehouse facility at Port Salford in Manchester. The logistics company has experienced a ten per cent rise in volumes which has prompted the move of its headquarters at Trafford Park to the new site.
Completion of the 60,700 sq ft development is predicted to take place by the end of this year.
"We have been planning the expansion to Port Salford for around two years and I'm thrilled to confirm the opening of this significant new facility," said David Williams, managing director, Rhenus UK. "The site is strategically located at the UK's first tri-modal inland port facility which gives our customers access to some of the fastest and most efficient routes into and out of the UK.
"We've seen plans for the sight come together quickly and construction work is moving along in line with the projected schedule. We think this investment in our facilities will not only allow Rhenus to extend its logistics solutions in the UK but help companies looking to export goods access a world-leading service from Rhenus and the surrounding development."