Starship Technologies and Sodexo have introduced a robot fleet of 30 at Northern Arizona University with six campus restaurants to provide nearly 25,000 students and staff with on demand breakfast.
Students and faculty can use the Starship app to order food and drinks from local retailers to be delivered anywhere on campus, within minutes. Once the order has been places, the journey of the robot can be tracked via an interactive map. Upon arrival an alert is sent, and the user can then meet and unlock the robot through the app.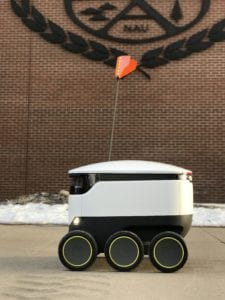 Each robot can carry up to 20 lbs – the equivalent of about three shopping bags of goods. Computer vision-based navigation helps them to map their environment to the nearest inch. The robots can cross streets, climb curbs, travel at night and operate in both rain and snow.
Participating restaurants include Einstein Bros. Bagels, national chain Star Ginger, Cobrizo Mexican Grill, Turnip the Greens, G's NY Style Deli, and The Wedge Market and Pizza.
The roll out of the robot fleet builds on the success of the delivery robots at George Mason University (GMU) at the end of January which saw an extra 1,500 breakfast orders delivered autonomously.
Likewise, this is the first time that sidewalk delivery robots are operating in Arizona. The state is one of seven that have approved the operation of delivery robots.
"We've been very pleased with how quickly Starship has been embraced on college campuses," said Starship Technologies senior vice president, business development, Ryan Tuohy. "These campuses are hubs of innovation and activity, with both students and faculty needing convenient and flexible services. Our on-demand delivery is perfectly suited to this environment and we can't wait to introduce our robots to the students and faculty at Northern Arizona University."
"This new robot delivery service complements the service on our premier residential campus and serves to enhance the exceptional dining and food offered to our students, faculty and staff," said NAU president Dr. Rita Hartung Cheng. "Northern Arizona University is proud to partner with Sodexo and Starship to bring this creative and innovative technology to our Flagstaff campus."
Sodexo and Starship plan to continue to expand the program to additional campus locations globally.