Sodexo and Starship Technologies have partnered to launch the world's largest fleet of delivery robots at George Mason University University's Fairfax, Virginia campus.
40,000 students, faculty and staff will be able to access the Starship Deliveries app to order food and have it delivered anywhere on campus by one of over 25 robots. Starbucks, Blaze Pizza and Dunkin' are among the retailers participating,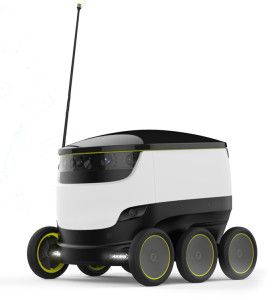 Users select their food on the app, drop a pin to where they want their delivery to be sent to and can then watch the robot make its journey via an interactive map. Users receive an alert when the food arrives and can unlock it through the app. Each delivery is to take 15 minutes or less and each robot can carry up to 20 lbs.
"College students understand the benefits of technology on campus and expect it to be integrated into their daily lives," said Starship Technologies business development SVP Ryan Tuohy. "Our goal is to make life easier, whether that means skipping the line, eating lunch on the lawn rather than in the cafe, or finding the time to eat better when studying for exams. Commuters can even meet the robot on their way into class."
"We're excited that our students, faculty and staff get to be at the forefront of this pioneering campus food delivery service," added George Mason University executive director for campus retail operations Mark Kraner.