Trailer and commercial vehicle body manufacturer the Cartwright Group has invested in a fully programmable robotic welder at its South Manchester production facility, as well as other investments to boost productivity.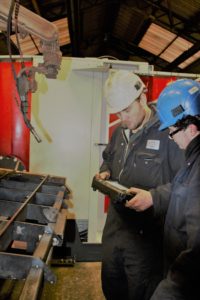 The robotic welder enables components to be manufactured to tolerance of 0.2mm. "The quality of components that are welded by the robot is tremendous; the process is repeatable, accurate and produces parts of exceptional structural integrity – which is vital for components such as kingpins," said Cartwright operations and manufacturing director, Paul Avery.
The robotic welder is one of many enhancements introduced into the production line to improve efficiencies, quality and drive faster completion times. Cartwright has also invested in upgraded lifting equipment, including a powerful new vacuum lift to handle large floors and fibreglass panels.
"The robotic welder, together with investments such as our £1.8 million panel press, enables us to keep more of our processes in-house and also increase volume while improving efficiency," said Avery.