Sainsbury's is the first ever customer to take delivery of Carrier Transicold's new prototype natural refrigerant trailer unit. The new trailer is a 13.6 metre dual-compartment tri-axle reefer, manufactured by Gray & Adams.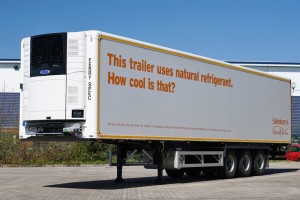 The trailer operates entirely on carbon dioxide refrigerant – which has a global warming potential (GWP) of just one.
"We're thrilled to be working closely with Carrier Transicold as they spearhead this innovation," added Gary King, operations support manager, Sainsbury's. "The beauty of Carrier Transicold's prototype trailer unit is it delivers a massive reduction in F-Gases by using natural refrigerant.
"This will directly help us achieve our ambitious environmental and sustainability goals, while delivering a seismic leap forward in terms of sustainability within the cold chain."
This will be the first of three new units to join the retailer's fleet – and is part of a three-year technology field trial.