Sainsbury's has agreed on the terms for a £1.3bn purchase of Argos owner Home Retail Group.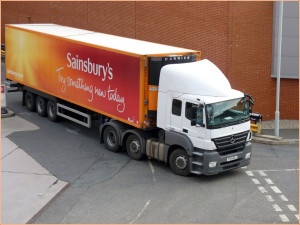 However Sainsbury's said that there "can be no certainty" that it will put forward a firm offer. The deadline for a deal has been extended to 23rd February.
If the possible offer is made official, Home Retail Group shareholders will receive, per Home Retail Share, 0.321 New Sainsbury's shares and 55 pence cash. The completion of the sale of Homebase would be a condition of the deal.
The Home Retail Group board has communicated to Sainsbury's that it is willing to recommend the key financial terms of the offer to their shareholders. Sainsbury's said that: "While the board of Home Retail Group continues to believe in the prospects for the standalone company, it recognises that the Possible Offer will provide an attractive opportunity for Home Retail Group shareholders to receive a full valuation for their shares."
Malory Davies writes: The fact that logistics plays such a major part in the rationale of this deal reflects the realities of modern retailing.
The traditional retail giants are facing challenges from several directions – discounters such as Aldi and Lidl, online giants such as Amazon, and a move towards convenience shopping. By taking over Argos, Sainsbury's believes it can strengthen its position in responding to these challenges.
In October 2012 Home Retail Group launched the Argos Transformation Plan, which was designed to enable it to take advantage of the move to online shopping. The plan followed several years of eroding performance at Argos.
A key element of the plan is the hub and spoke network which was completed early last year. This uses large stores as hubs to support its smaller locations and enabled same day collection of 20,000 products.
This was followed in October by the launch of Fast Track, which offers same day delivery either to home or to store for collection for some 20,000 products for a fee of £3.95.
The importance of developing these capabilities was highlighted in Home Retail Group's annual results for the year to 28th February 2015, which said internet sales now represented 46 per cent of total Argos sales, up from 44 per cent in the previous year. Mobile commerce was up 38 per cent to 25 per cent of total Argos sales.
While Sainsbury's has a fleet of vans to deliver online orders to customers' homes, its distribution network is optimised to distribute large volumes to stores.
Explaining the rationale for the deal, Sainsbury's said it would: "Bring together multi-channel capabilities including digital, store and delivery networks to provide fast, flexible and reliable product fulfilment to store or to home across a wide range of food and non-food products."
Changes in consumer behaviour in the past few years have affected the viability of the giant superstores that had been central to the strategies of the major food retailers, leaving them with the problem of what to do with under-use capacity at some of the giant stores. Tesco for example has been trialling using some of this space as home shopping hubs.
One of Sainsbury's initiatives to use retail space more efficiently has been to open Argos franchises in some of its stores.
In January last year, it launched a trial of ten Argos digital stores in Sainsbury's supermarkets offering a range of 20,000 products.
Part of the rationale of the takeover is to extend this to optimise the use of their combined retail space. "The combined entity will have attractively located stores across the UK, with an enhanced supply and delivery network and a strong presence across food and grocery, clothing, homewares, toys, stationery, electricals, furniture and other general merchandise," Sainsbury's said in its rationale.
This could mean the closure of a substantial number of Argos stores, according to Harper Dennis Hobbs, the real estate consultancy. In a study commissioned by "The Guardian" newspaper, HDH found that that 245 Argos shops are within half a mile of a Sainsbury's supermarket.
Jonathan De Mello, head of retail consultancy at HDH, said: "While Sainsbury's may not close all 245 stores we would advise that at least 100 of them should be considered at risk."
Of course, Sainsbury's expects to cut costs and reckons that in the third full year following completion it should be saving £120 million.
About half of this would come from moving Argos concessions into Sainsbury's stores and closing Argos locations.
A further third would come from removing duplication in central costs and procurement benefits from the additional scale of the business.
The remainder would come from the sale of Sainsbury's clothing and homewares through existing Argos stores.
It said there would be exceptional costs of £140m spread over the first three years following completion.