Sainsbury's plans to roll out a same day delivery service to 30 of its stores by Christmas, following a trial at three London stores.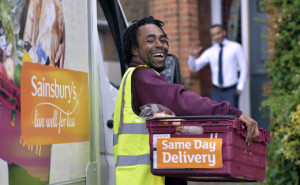 The three stores taking part in the trial are Streatham Common, Richmond and Brookwood in Surrey. If the trials are successful, same-day online grocery delivery will be available in 30 stores by Christmas.
Customers who order by 12pm will be able to pick up their orders from 4pm if they choose to 'Click & Collect', or receive their delivery at home from 6pm. There will be no additional charge for customers who have a Sainsbury's 'Delivery Pass'. Sainsbury's says the service is "competitively priced" for other customers and free for orders over £100 delivered Monday to Thursday.
The move is part of the retailer's online expansion which also involves the opening of a 185,000 sq ft online fulfilment centre at Bromley-by-Bow in the autumn.
It is currently recruiting for the first staff at the site a mixture of drivers, order pickers, product replenishers and managers. The plan to add a further 430 employees by 2020.
The fulfilment centre is being created at the former Royal Mail building, which is being redeveloped and fitted with automation and picking technology.
Robbie Feather, Sainsbury's director of online, said: "Demand for our online delivery service in the capital continues to grow. We expect this trend to continue as more and more customers enjoy the flexibility of multi-channel shopping using our groceries website and app, in addition to visiting stores.
Our online orders are currently picked from supermarket stores across the UK and this model will continue, but the Bromley-by-Bow Centre will help us keep pace with demand in London, enabling us to fulfil another 25,000 orders per week."
Sainsbury's online grocery sales grew by nearly nine per cent last year, while orders grew by nearly 15 per cent. The retailer recently set out plans to double the number of Click & Collect Groceries sites by the end of the next financial year, taking the total to 200.