Supermarket retailer Sainsbury's will trial zero-emission cooling for its deliveries in London for three months.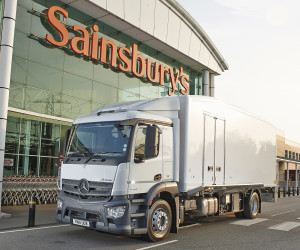 It is using a Dearman engine – a piston engine driven by the expansion of liquid nitrogen or liquid air, to produce clean cold and power.
The test truck will operate out of Sainsbury's Waltham Point depot. 1.6 tonnes of carbon dioxide is expected to be saved during the trial.
Sainsbury's is aiming to cut its total carbon emissions by 30 per cent within the time frame of fifteen years (2005-2020).
"This trial with Dearman is just one of the innovations we've introduced to help us towards this goal," said Paul Crewe, head of sustainability at Sainsbury's. "Their zero-emission system is really exciting, to be running a liquid air engine quite literally means our cooling is running on thin air"