Building merchant and construction materials giants Saint-Gobain UK and Travis Perkins have re-opened some construction supply chains – primarily those that support national infrastructure – after initially closing following the prime minister's lockdown order.
Saint-Gobain UK and Ireland said that it initially took the decision on Monday evening [23 March] to close all UK distribution branches, warehouses, offices, and manufacturing facilities while we sought urgent clarification from the UK Government as to how it should operate its  business within the government guidelines.
It said that government had confirmed that construction sites should remain open, as should manufacturing and supporting distribution businesses, and it has re-opened all UK distribution and manufacturing plants with effect from today (Wednesday 25 March).
In a statement on its website Saint-Gobain UK said: "Our businesses contribute towards essential maintenance services to local authorities and hospitals, and have an important role to play in ensuring homes stay warm and have power and hot water.
"A number of our businesses also support national infrastructure directly including schools, public transport, the NHS, pharmaceutical and food industries, the energy industry, utilities and water and of course are an essential part of the UK's construction supply chain."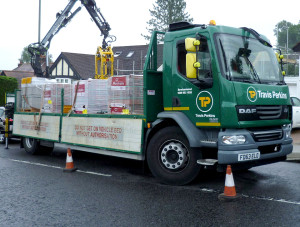 It said it was introducing further social distancing and hygiene measures widely across the business, and taking further steps to reduce some of its services. It was keeping Jewson branches closed to customers, but was running a delivery service to support existing customers.
Meanwhile Travis Perkins said that it was also running deliveries from selected branches from today (Wednesday 25 March) 'in order to supply the products that are vital to support our country's essential services'.
In a statement on its website Travis Perkins said: "We will only be doing this where we are confident that we can safely operate, strictly observing social distancing guidelines. The health of our colleagues and customers is our top priority and we are committed to playing our part in preventing the spread of COVID-19."
It stressed that deliveries will be made only to specific sites such as hospitals, food retailers and social housing for emergency repair and maintenance works, and for critical infrastructure such as utilities and transport.